Zoek & Vind
Het juiste product
Closed loop stappenmotoren
De AZ closed-loop serie combineert de voordelen van stappenmotoren met die van servo-geregelde systemen dankzij de ingebouwde positieregeling in een compacte behuizing. Het bestaande productassortiment is onlangs uitgebreid met netwerk compatibele drivers wat de in gebruik name nog aanzienlijk vereenvoudigd.
Closed-loop stappenmotoren van de AZ-serie van Oriental motor bieden de volgende voordelen:
geen stappenverlies mogelijk door encoder feedback
inclusief bijhorende versterker of controller op 24VDC of 230 VAC
opties :

absoluut encoder
rem
reductiekast
programmeerbare versterker
EtherCAT, EtherNet/IP of Profinet communicatie

Hieronder vindt u meer uitleg over de specifieke Oriental Motor Alphastep technologie of contacteer ons gerust voor meer uitleg over de juiste stappenmotor voor uw toepassing.
αSTEP Hybrid Control Systems
AlphaStep products are stepper motor based hybrid motors with a unique hybrid control system combining the benefits of "open loop control" and "closed loop control".
The position of the motor is always monitored, and then the driver automatically switches between 2 types of control depending on the situation.
High Response
By utilizing the high responsiveness of the stepper motor, moving a short distance for a short time is possible. The motors can execute commands without lag.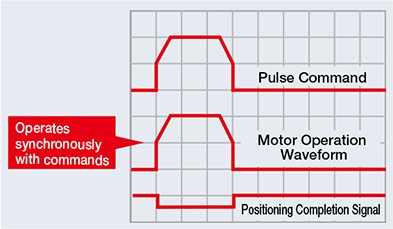 Holding the Stop Position without Hunting
During positioning, the motor stops with its own holding force without hunting. Because of this, it is ideal for applications where the low rigidity of the mechanism requires absence of vibration upon stopping.
Tuning-Free
Because it is normally operated with open loop control, positioning is still possible without gain adjustment even when the load fluctuates due to the use of a belt mechanism, cam or chain drive, etc.
Continues Operation Even with Sudden Load Fluctuation and Sudden Acceleration
It operates synchronously with commands using open loop control during normal conditions. In an overload condition, it switches immediately to closed loop control to correct the position.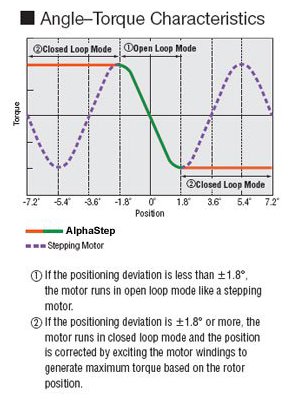 Alarm Signal Output in Case of Abnormality
If an overload is applied continuously, an alarm signal is output. When the positioning is complete, and END signal is output. This ensures the same level of reliability as a servo motor.
αSTEP Performance
What is the Output of αSTEP?
"Rated Output" is not listed because AlphaStep has no "rated speed". Refer to the graph below to compare rate torque of the AlphaStep to Watts of of servo motor's rated output torque.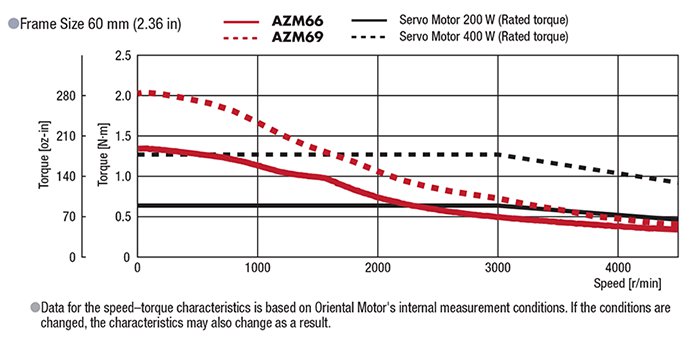 What is the Stopping Accuracy of αSTEP?
The stopping accuracy of a typical AlphaStep is ±0.05° (under no load), which is equivalent to that of servo motors. The graphs below show the actual measured stopping accuracies when an AlphaStep and an AC servo motor were rotated once.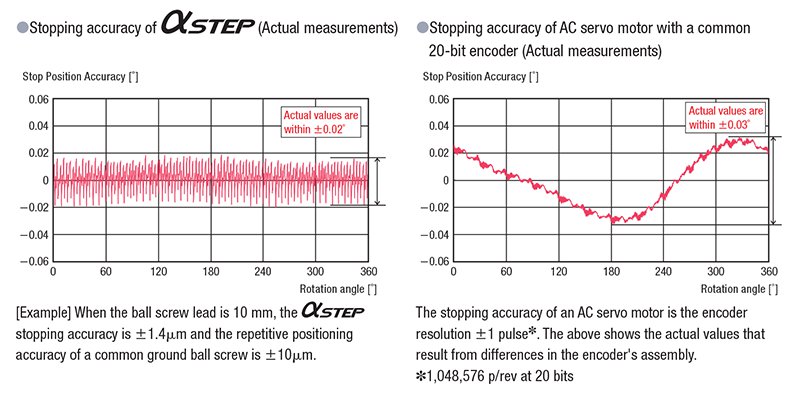 Hybrid Control System
The hybrid control system constantly monitors the motors position allowing for the benefits of performance from "open loop" control while providing the assurance of "closed loop " performance.
αSTEP Sensor Types
AZ Series with Absolute (ABZO) Sensor - αSTEP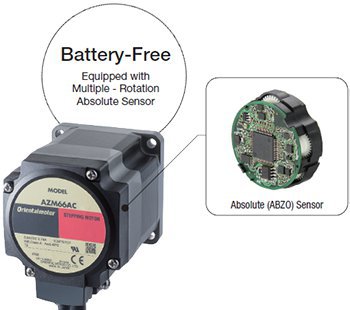 The AlphaStep AZ Series stepper motors offer high efficiency, low vibration and incorporates our newly developed Mechanical Absolute Encoder for absolute-type positioning without battery back-up or external sensors to buy.
Mechanical Multi-turn Absolute Sensor
Absolute position detection is possible within ±900 rotations (1800 rotations) of the motor shaft from the home reference.
No Battery Required
Because positioning information is managed mechanically by the absolute sensor, the positioning information can be preserved, even if the power turns off or if the cable between the motor and driver is disconnected.
AR Series with Rotor Position Detection Sensor - αSTEP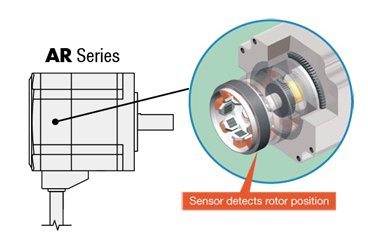 The AlphaStep AR Series stepper motors offer high efficiency, low vibration, continuous operation with the security of closed loop performance without hunting or gain tuning.
Slim Motor Sensor
Because the sensor is compact and slim, the overall length of the motor has been reduced.
High Performance Resolver
Performance such as heat resistance and vibration resistance is better than with regular optical encoders.
Reduced Wiring
Because an encoder cable is not necessary, the motor and driver can be connected with just 1 cable.
Zoek
&

vind

Het juiste product
STEL UW VRAAG
Heeft u vragen bij één van onze producten of diensten?